4000 Tons, ADCOM marks the new success!
10/08/2016
After a series of vertical compression load test with the testing load are greater than 3000 tons at FLC Garden City project, VINATA Tower project, TD Green Tower project, etc..., This month (8/2015), ADCOM marked the new success in vertical load test with the testing load is 4000 Tons per pile at the Xuan Mai Riverside apartment building project.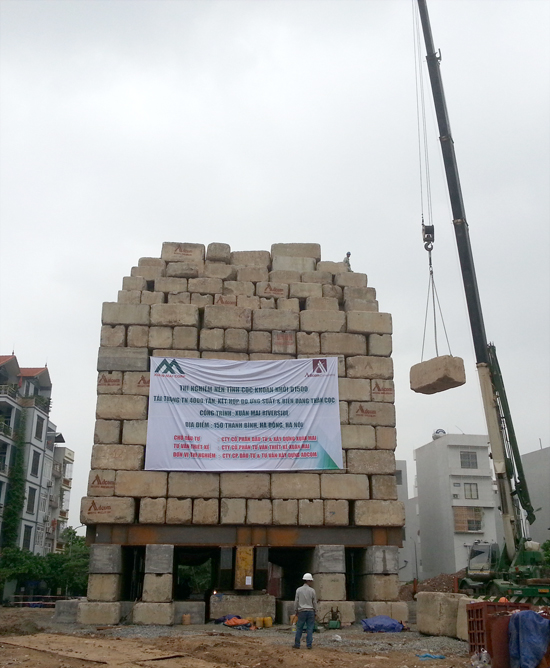 Six years ago (2009), at Mulberry Lane project, ADCOM has recorded the vertical compression load test with the larger testing load in Vietnam, which is 3,870 tons per pile. At Xuan Mai Riverside project, ADCOM has upgraded the capacity of testing equipments that can test up to 5,000 tons. Our engineers has launched initiative to use the anchor bearing system to fix the bearings into sub-beams. With this initiative, the counterweight blocks is very safe, not too high and reduce about 700 tons counterweight, bringing great economic benefits to the investor, as well as testing agency.
In the spirit of always learning and promotion initiatives, 
ADCOM's 
technical solutions always eager companion and best benefit for the customer, the reliable prop for designer use bored piles with the larger load capacity .
In addition to the vertical compression load test method, ADCOM will promote the Self Balancing testing method
(bi directional / Osterberg Cell Load Test)
 into projects have larger pile capacity. In the future, our goal is to conduct testings with test load of pile is from 5000-7000 tons or even 10000 tons