Purpose of the test: Core drilling test allows visually check the overall quality of the concrete on the bottom pile, deposit sediment and geology contiguous with pile tip.
Testing method: To check quality of concrete at pile tip of test pile, place a hollow tube along pile to the bottom pile from 0.5 ~1m. Using geological survey drill machine to drill through the bottom of tube to take a sample concrete at pile tip. Then using the method of standard penetration test SPT to check humus and determine geologists under the pile tip.
Testing procedure:

TCVN 9395:2012 "Bored pile - Construction, check and acceptance"
TCVN 9351:2012 "Soils - Field testing method - Standard penetration test"

Testing step:

Determine position of drill machine on the head pile and fix it.
Take elevation data of pile.
Measure the length drill tube (tube D110) to estimate length of sample concrete.
Measure the length drill rod.
Drop-down auger to bottom of drill tube. Perform drill cutting bottom of tube and drill concrete, breaking core.
Drawing up to take drilling samples. Place the core in due course be taken up. Place the ruler to measure the length and diameter of the samples.
Install SPT tube and drop into the bottom pile.
Take photos and store the samples.
Select the qualified sample to compresstion test in specialized laboratory.

Testing report:

Project name and location; The employer, designer, pilling contractor and the testing agency.
Information of test piles.
Description of drilling procedure, samples, sediments and the geological layers below the pile tip.
Site photos.
Conclusion and recommendation.
Result of compresstion test of samples.
Buy now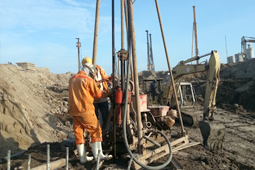 CUSTOMER INFORMATION
SHIPPING ADDRESS
PAYMENTS
YOUR ORDER INFORMATION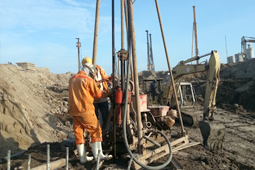 Core Drilling Test
0đ
Subtotal
CUSTOMER INFORMATION
SHIPPING ADDRESS
Address:
Country / district:
Province / city:
Shipping costs:
Note:
PAYMENTS