Purpose of the test: Determine the uniformity of concrete pile/ barrette, retaining wall, concrete structure elements... base on ultrasonic spectrum chart and wave speed transmission
 
Testing method: Ultrasonic wave is made by the electricity pulse of ultrasound machines and transmitter through the concrete to the recorder. Recorders will record the time and energy of ultrasound waves. Signals are converted to digital to record and analyze after testing.
 
Testing procedure: TCVN 9396:2012 "Bored pile - Determination of homogeneity of concrete - Sonic pulse method" or ASTM D5882, JGJ106-2003, etc...
 
Testing step:

Collect profile and documents relating to testing pile.
Check the pile able to test: sonic tubes must be straightedge, not blocking fill with clean water.
Input testing pile data.
Conduct testing, recording of data.
Test in order to every pile section. Put the transmitter and receiver to the bottom of the tubes. Turn on the equipment to trial, check the signal. If it is good, enter parameter and pull up the sensors and record the data.
Treatment data and print result.
Analyze and report testing.

 
Testing Report

Project name and location.
Name: The owner, designer, pilling contractor and testing agency.
Tested pile records/ Field testing records
Summary table of test results.
Sonic logs and wave speed graphs against pile depth.
Conclusion and recommendation for the defect piles.
Buy now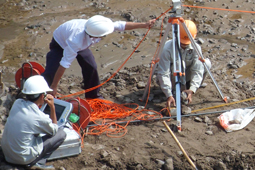 CUSTOMER INFORMATION
SHIPPING ADDRESS
PAYMENTS
YOUR ORDER INFORMATION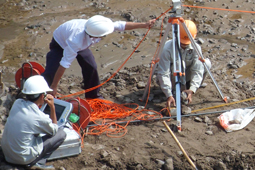 Sonic Logging Test
0đ
Subtotal
CUSTOMER INFORMATION
SHIPPING ADDRESS
Address:
Country / district:
Province / city:
Shipping costs:
Note:
PAYMENTS