Purpose of the test: Determine the characteristic value of the single pile vertical bearing force;
 
Testing method: cycle loading to maximum testing load or failure.
 
Testing procedure: arcordance to testing standard: TCVN 9393:2012 - "Piles - Standard test method in situ for piles under axial compressive load"; ASTM D1143 or equivalent standards of other countries
 
Testing steps:

Preparation works.
Process the head of the test piles.
Installing the hydraulically jacks.
Installation the bearings and counterweight systems or anchor system.
Install monitoring system.
Testing.

 
Testing report:

Project name and location.
The employer, designer, pilling contractor and the testing agency.
Document of test piles.
Testing result sumary.
Tested pile records/ Field testing records.
Load-settlement relationship graphs (Q-s).
Graphs of load and settlement to time (Q-s-T).
Comments and conclusion with suggested load capacity.

 
Buy now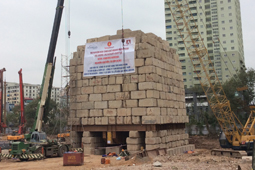 Vertical Compression Load Test
0đ
CUSTOMER INFORMATION
SHIPPING ADDRESS
PAYMENTS
YOUR ORDER INFORMATION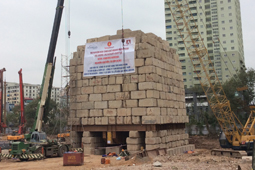 Vertical Compression Load Test
0đ
Subtotal
CUSTOMER INFORMATION
SHIPPING ADDRESS
Address:
Country / district:
Province / city:
Shipping costs:
Note:
PAYMENTS