The aim of monitoring:
For underground works and civil constructure industries: control the horizontal displacement of the diaphragm wall, while the movement of the soil around the building during the work of the basement.
For constructure slopes and soft ground treatment: monitoring the shift in the slope or sliding blocks, define slip to propose corrective measures promptly.
Monitoring method:
Inclinometers monitoring casing pipe is ABS or PVC pipe dedicated D70 diameter with symmetrical grooves installed in the D114 steel pipe ready in the diaphragm wall or installed through holes drilled outside the diaphragm wall, the position of embankments, dams only regulations, slopeindicate in soft soil treatment.
Process monitoring: According to the technical outline is approved by the investor and supervision consultant.
Monitoring report :

Time observation and position monitoring equipment.
The displacement  in depth monitoring points installation vesus time.
Buy now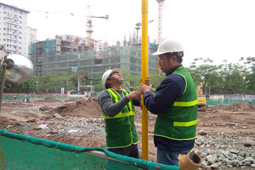 Building movements monitoring
0đ
CUSTOMER INFORMATION
SHIPPING ADDRESS
PAYMENTS
YOUR ORDER INFORMATION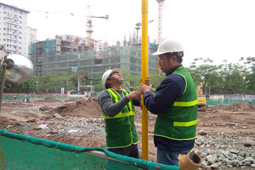 Building movements monitoring
0đ
Subtotal
CUSTOMER INFORMATION
SHIPPING ADDRESS
Address:
Country / district:
Province / city:
Shipping costs:
Note:
PAYMENTS