Currently in our country, bored pile is used as an essential solution for the high-rise buildings, large span bridges .... To improve pile bearing capacity, in addition to increasing the length of pile and pile diameter, research direction is concerned that the handling pile tip after pouring concrete piles. Technology expansion, cleaning and pump grout to handle the pile tip to land firmly in place as well as anything leftover debris during drilling. The principle of the technology is preloading the ground under the pile tip to mobilized pile load capacity within the allowed limit settlement. The research results show that this technology is a very effectly proactive treatment and matching the level of local technology.

Since the 1960, the world had more research in order to mobilize more components load capacity at the pile tip by use of high pressure grouting technology into the pile tip (Post-Grouting). In 1975, Gouvenot and Gabiax published the result of the testing program, in which the pump grouting for large diameter piles has given critical bearing capacity greater than 3 times in the land of sand and clay. Thus, pump grout technology has become a normal construction process in many places around the world.

Reinforced pile tip by blowing - laundering pile tip methods and pump cement grout aims reinforced pile tip to leverage load-bearing ability of the pile, to improve the quality of pile tip and increase safety for the project. 

Procedure:

Step 1: Construction of bored pile with steel tubes (sonic tubes)
Step 2: Drill breaking the bottom of pile through tubes

Step 3: Using a high pressure water blasting deposit under the pile tip.

Step 3a: Flush with high pressure pump 200bar combined compressed air when pile body having problems or if step 3 fails

Step 4: pumping cement grout to the bottom of the pile
Step 5: Pinch a head tube, keep pumping and keep the pressure.

 
Buy now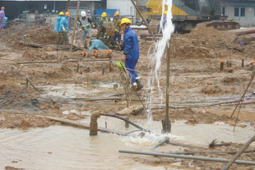 CUSTOMER INFORMATION
SHIPPING ADDRESS
PAYMENTS
YOUR ORDER INFORMATION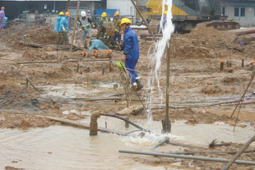 Reinforced pile tip
0đ
Subtotal
CUSTOMER INFORMATION
SHIPPING ADDRESS
Address:
Country / district:
Province / city:
Shipping costs:
Note:
PAYMENTS